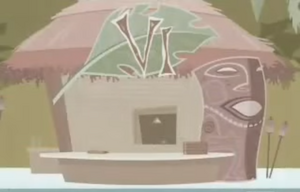 Vegan Island
is a vegan eatery located in the
Galleria Mall
. It is run by
Starr
. It is rarely seen in the show, as none of the main characters are vegetarians or vegans and thus do not visit the store. The store was mostly seen while
Jude and Starr were dating
, as
Jude
would occasionally visit the store in order to see his girlfriend.
The first appearance of the store was in "The Five Finger Discount." There, Nikki and Wyatt visited the store and bought spicy wraps. While there, they discussed finding a girlfriend for Jude, but it never occurred to them to ask Starr despite Starr showing an offbeat personality not dissimilar to Jude's. Instead, Nikki and Wyatt merely received their food from Starr and then headed off to Nice Cinnabuns, where they set Book Girl up with Jude.
After Jude began dating Starr, the store began appearing more frequently. In "Dude of the Living Dead," the store was the last place in the mall to be overrun by zombies due to its height, and in other episodes Starr was seen working there when Jude met up with her–including, most notably, "Deadbeat Poets Society" and "Lights Out." The latter of these is important, as Vegan Island was the site where Starr's new goth look (Nebula) was introduced to Jude and the viewers.
Vegan Island is the tallest store in the mall. It is designed to look like a primitive mud hut, complete with a straw roof and a tiki statue standing by it. Despite this design, the store is much taller than any reasonably-sized real life mud hut would be, which suggests that despite appearances the store is constructed out of regular building materials, and is only decorated in such a way in order to reinforce the "island" theme.
Although it is unknown what the main business of Vegan Island is (beyond serving vegan food), it is suggested that the store specializes in burritos and wraps or similar foods. This is seen when Nikki and Wyatt get spicy wraps from the store in "The Five Finger Discount," and in "Deadbeat Poets Society" and "In a Retail Wonderland...," where Starr is seen serving customers burritos and coming up with new burrito recipes, respectively. Despite this, it is possible that Vegan Island has other items for sale on their menu even though they are never seen.
Trivia
In "The Five Finger Discount" it is shown that there is occasionally a cook who works there in addition to Starr.
Starr does not seem to be heavily supervised, as she sometimes serves customers with her feet.
Starr's comments about how she "has to stop her customers from eating meat" in "The Khaki Girl" suggest that Starr is a vegan herself.
Community content is available under
CC-BY-SA
unless otherwise noted.