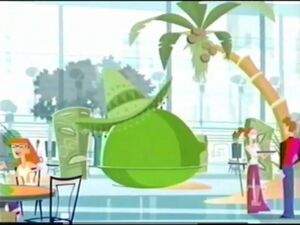 The Party Lime
(also known as
The Lime
) was a store that sold lime-flavored drinks. Much like the
Big Squeeze
, it was a giant fruit that stood in the food court and sold drinks based on its fruit to customers. Unlike the Big Squeeze, however, the store was not owned by
Big Steve
, was run by
Jonesy
instead of
Caitlin
, and was a lime instead of a lemon.
The Party Lime only appeared in "A Lime to Party." There, it moved into the mall and was set up across from the Big Squeeze. Jonesy was hired to run it, and soon Jonesy threw himself wholeheartedly into the job, as he viewed it as selling an idea he called "limestyle" rather than merely selling lime-flavored drinks. Limestyle was one of the big selling points of the store, as Jonesy considered the philosophy he made up an excuse to throw a giant fiesta that nearly every teenager in the mall was attracted to.
Unfortunately, this (combined with the fact that Caitlin did not know how to make good lemon drinks) attracted customers away from the Big Squeeze, and revenues there nosedived. When Big Steve saw this, he decreed that there was only room for one giant fruit in the mall, and informed Caitlin that unless sales picked up at the Big Squeeze, the store would move to a strip mall. When Jonesy heard about this, he instructed Caitlin to learn how to make good drinks while he cranked the party up to fever pitch. Eventually, the lime was sent rolling through the food court by rowdy partygoers, and the owner of the store shut it down and fired Jonesy due to having received several noise complaints. After this happened, thirsty customers flocked to the Big Squeeze, as Caitlin had learned to make drinks and had plenty on tap for the customers; because of this, Caitlin's job was saved.
The Party Lime looked like a giant lime with a green sombrero on top. For some reason, there were two giant tiki heads that sat next to the store, along with an (ostensibly fake) palm tree and some sand. While working at the store, Jonesy work a sombrero as well and spoke with an exaggerated Mexican accent. While it can be assumed that the sombrero was part of the uniform, it is not known whether Jonesy was instructed to use the accent or whether he chose it himself as part of his limestyle-selling persona.
The structure itself is much larger than that of the Big Squeeze. Although no direct comparision is available, it appears to be more than two times as tall and more than five times as wide. Despite its size, though, it was only manned by one person in its appearance. It is unknown while the store is so large.
Trivia
Community content is available under
CC-BY-SA
unless otherwise noted.