Jurassic World: Dominion Dominates Fandom Wikis - The Loop
Play Sound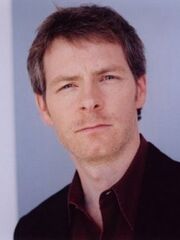 Terry McGurrin is a Canadian voice actor, writer, and comedian. On 6teen, he is known as the voice of Jonesy Garcia. This is his best-known role as a voice actor, although he has played voice acting roles in several other series.
On 6teen, in addition to voicing Jonesy, Terry McGurrin also voiced Jonesy's doppelgänger Smithy. For that role, he used Jonesy's voice with a slightly different intonation. In addition to this, he also acted as an occasional writer for the series, as he wrote several episodes (mostly in Season 2 and Season 3).
Terry's other voice acting roles include appearances on Bolts and Blip, Abby Hatcher, Scaredy Squirrel, Numb Chucks, Total Drama Presents: The Ridonculous Race, and Dot. In Bolts and Blip, he played Bolts, one of the two title characters, while in Scaredy Squirrel he played the title character Scaredy. In Numb Chucks, he was cast as the older brother Dilweed Chuck. Terry was cast on The Ridonculous Race as the host for the season, Don. Finally, in the children's show Dot. Terry plays the role of the title character's dog.
In addition to doing voice acting, Terry McGurrin has also worked as a story editor and writer. In addition to doing writing for 6teen, McGurrin also wrote and did story editing on various iterations of the Total Drama series. He worked on Total Drama: All-Stars, Total Drama: Pahkitew Island, and also co-developed and produced the aforementioned Total Drama Presents: The Ridonculous Race.
Terry is also a stand-up comedian who has toured extensively. He has done toured clubs, been sponsored by corporations, and was part of 9 tours that entertained overseas troops. He has taped 3 comedy specials that have appeared on CTV and has been nominated for 4 Gemini Awards and 3 Canadian Comedy Awards.
Terry McGurrin currently lives in Ontario.