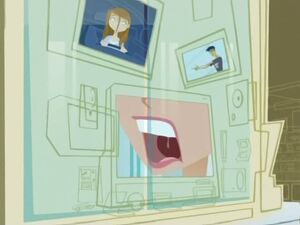 Stereo Shack is an electronics store in the Galleria Mall. It is considered the "geeky" electronics store in the mall, in stark contrast to Things That Beep, which is generally considered the "cool" electronics store. It is run by Darth.
Stereo Shack first appears in "Breaking Up with the Boss' Son." In that episode, Wyatt goes there to purchase an MP3 adapter, and drags Jonesy along. Jonesy ends up breaking an expensive speaker, and takes a job there to work his debt off. While working there, Darth defeats him in a lightsaber duel, humiliating him, and eventually fires him when Jonesy sets Darth up with an unwilling Nikki, who ends up paying off Jonesy's debt in exchange for the tape of Jonesy's defeat.
Nikki eventually works at Stereo Shack as well in "Welcome to the Darth Side" after Chrissy fires her from the Khaki Barn and hires Ashley to replace her. Here, Nikki turns out to be a horrible employee, and ends up getting fired as well when Darth not only gets a girlfriend (and getting over his crush on Nikki) but also when it's proven that Nikki where anything in the store is located.
The uniforms at the store consist of a blue shirt, tan pants, and blue tie. Darth is frequently seen wearing this costume even when not at work, which suggests that either the uniform was set by him or he enjoys the uniform. Darth also allows his employees to add decorations to their uniforms, such as capes, lightsabers, or helmets, although this suggestion is likely made out of his love for Star Wars and other science fiction franchises.
At some point, the store must have merged with Things That Beep. This is made obvious by the fact that, although Darth used to work at Stereo Shack, in later episodes he works at the Beep. Further driving the point home is the fact that he works from the same storefront throughout the series.
Trivia
The name is a reference to RadioShack.
At some point, Stereo Shack became Things That Beep. Strangely, though, the store's display is the same; this suggests that Stereo Shack was bought by, purchased, or merged with Things That Beep.

Something that is even odder is that Blade and Christo, who used to work at Things That Beep, have left for Taj Mahome Video. It's possible that Stereo Shack merged with Things That Beep, and the duo quit upon learning that Darth was a manager at another location (a former Stereo Shack).

It is also possible that, as Darth was the manager here, he was also made a manager at the other location of Things That Beep and fired Blade and Christo for bullying him in "Breaking Up with the Boss' Son".

Specific items that Stereo Shack offers include:

Positronic Calculators
Headphones
3AMP Transmitters
Auxiliary Cords
Batteries
Stereo/Surround Sound Speakers
Personal Video Game Players
Camera Wires
Spy Cameras
Community content is available under
CC-BY-SA
unless otherwise noted.