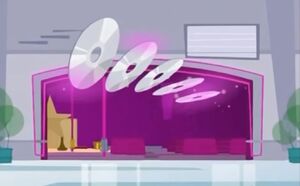 Spin This
is a music store at the
Galleria Mall
. It is managed by
Serena
and was the first place that
Wyatt
worked. The only employees of the store that have been named are Serena, Wyatt (fired in "
Going Underground
"),
Chad
, and
Marlowe
(started and quit a job here in "
Love At Worst Sight
").
Spin This first appeared in "Take This Job and Squeeze It." There, Wyatt procured employment at the store after failing to get hired at Grind Me in his first interview. As the newest employee, he was placed in the country section as a form of hazing–an assignment made worse by the fact that Wyatt absolutely despises country music.
While working at Spin This, Wyatt developed a crush on Serena, and eventually started going out with her in "The (Almost) Graduate." After this episode, Serena and Wyatt dated until "The One with the Text Message," where Serena dumped him with a text message and began dating another employee of the store, Chad (whom she had dated before). This led Wyatt into a post-breakup funk, and he soon began to act erratically at work, stacking singles randomly and ruining Serena's chances at making sales. The last straw came in "Going Underground," when he put a song called "I Hope You Choke" on the store's PA system and dedicated it to Serena and Chad; upon hearing this, Serena angrily fired Wyatt.
After Wyatt was fired, Spin This appeared much less in the show. Spin This still appeared on occasion after Wyatt ceased working there; however, it was more likely to appear as just an exterior where characters were walking by than for any action to take place inside the store. Exceptions to this include "Love At Worst Sight," when Marlowe was hired by the store, and in "Kylie Smylie," where the titular character held an autograph session in the store.
Trivia
In "The Slow and the Even-Tempered," Serena said she fired one of the employees, which implies that there are more employees than just her, Wyatt, and Chad working there.
The store apparently has a celebrity autograph wall filled with signatures of various music celebrities that have been to the store.
Community content is available under
CC-BY-SA
unless otherwise noted.