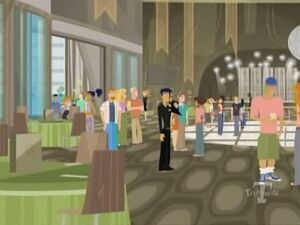 The
Soft Rock Café
is a modern casual dining restaurant located in the
Galleria Mall
. It is managed by a man called Chuck Tamplifier (whose name is a pun on "chucked amplifier," which would refer to getting rid of an amplifier and going acoustic). It is one of the few stores in the mall where
Jonesy
has worked
multiple times
.
The Soft Rock Café first appeared in "Over Exposed." There, Jonesy and Chrissy both took jobs there for the opening of the Galleria Mall franchise. Jonesy was employed as a waiter, and Chrissy was employed as the hostess. However, Chrissy ended up quitting her job and going back to work at the Khaki Barn when she saw what Nikki had done to her friends, and Jonesy was fired at the end of the episode when Jen put a picture of a young Jonesy fully nude on a television screen.
Jonesy was hired to work at the restaurant again in "Silent Butt Deadly." There, he was hired as a bathroom attendant, and was good at his job until Nikki wrecked his bathroom while on a date with him. This led Jonesy to develop paranoia about bathrooms, and he began to refuse to let anybody use the bathroom. When Jonesy's boss found out about this, he understandably fired Jonesy on the spot.
After this, the restaurant only appeared in "Sweet 6teen" and "Whoa, Baby." In "Sweet 6teen," the restaurant was the site of Caitlin's (then Caitlin and Tricia's, then solely Tricia's) party, and in "Whoa, Baby" Emma took her daughter there for lunch while planning to reveal her pregnancy. The restaurant is probably rarely seen because it appears to be expensive (as can be inferred from its having bathroom attendants), and as such the group more often heads to El Sporto's, which despite being a theme restaurant as well seems to be rather inexpensive.
Trivia
The restaurant is a parody of the Hard Rock Cafe.
A celebrity guest is apparently sent out for each franchise opening. The one sent to the Galleria Mall was Liza Lomen (a parody of Lindsey Lohan).
It is never said what is on the menu, or even what kind of food is served at the café.
Community content is available under
CC-BY-SA
unless otherwise noted.