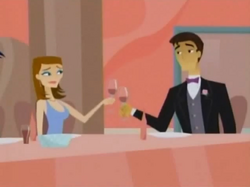 Mr. Garcia
is the father of
Jonesy Garcia
,
Robbie Garcia
,
Diego Garcia
, &
Emma Masterson Jr.
He is the second husband of
Emma Masterson
and well as the stepfather of
Jen
and
Courtney Masterson
. His full name is unknown. It is also unknown who his former wife (Jonesy, Diego, and Robbie Garcia's mother) was, or what happened to her. Mr. Garcia has only appeared in the episodes "
The Wedding Destroyers
" and "
Mr. and Mr. Perfect
." The fact that the wedding episodes are his only appearances is very odd, as logically he should have been at the hospital during "
Labour Day - Part 1
" and "
Labour Day - Part 2
" to witness the birth of
his fourth child
.
Mr. Garcia is rarely heard speaking, and he is known mainly for offscreen actions. He mainly appeared in "The Wedding Destroyers," where his most notable action is giving a loft (previously promised to the boys) to his stepdaughters as a bedroom. It is revealed that he did this through a cell phone call between him and Jonesy. His gift unintentionally raised tensions between the two already warring parties, and led to a fiasco at Grind Me when the boys refused to move the stag as a means of retaliation. Mr. Garcia also only appeared in a few scenes in the episode, all of which were either at the stag or the wedding, and only spoke in order to make the joint announcement with his then-fiancée that the wedding would be postponed until their kids had grown up and moved out of the house. (Later in the episode, the kids agreed that their parents should get married, leading to the wedding going on as planned. However, it is telling that he and his wife were willing to put off getting married for the sake of their kids.)
In "Mr. and Mr. Perfect," he makes a small cameo, sitting at a table with his wife, his eldest son, and his son's girlfriend. He speaks there to toast the bride and groom.
Trivia
According to Jonesy in "Idol Time at the Mall," Mr. Garcia apparently owns a Porsche.
Mr. Garcia is voiced by Miklos Perlus.
Gallery
Community content is available under
CC-BY-SA
unless otherwise noted.