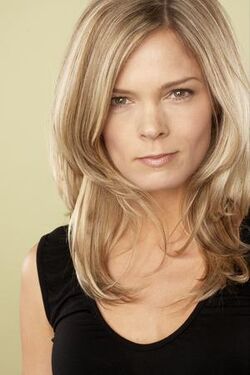 Megan Fahlenbock
was the voice actress who portrayed the character
Jen Masterson
on the cartoon sitcom
6teen.
In addition to voicing Jen on 6teen, Megan is also famous for portraying Gwen in the Total Drama franchise. She has also had voice-acting roles on the English version of Bakugan Battle Brawlers and Mr. Meaty. On the former, she portrayed Jenny, a minor character who was apparently an in-universe pop star, while on the latter she voiced many minor characters. She also had a role on Totally Spies! as a minor villain, Muffy Peprich. She also had a lead role on Get Ed as the sidekick to the main character.
Fahlenbock has also had minor roles as an actor in a few live-action movies, including Get Over It, Sam's Lake, Resident Evil: Apocalypse, and The Baby Formula. In Sam's Lake, she plays the role of one of the main character's urbanite friends. Her role in Get Over It is unknown, although likely quite small. Resident Evil: Apocalypse is her most famed role outside of voice acting (as a voice actor, it is the roles of Gwen in Total Drama and of Jen in 6teen); in it she played a woman who, suffering from a zombie bite, ultimately committed suicide to avoid becoming a zombie. However, her largest live-action role on film was in The Baby Formula; there, she was one of the two leads. Her role was that of a lesbian who engaged in an experiment with her partner involving combining their DNA in the form of an embryo. Although this was her largest role, it is not her most famous, as the movie was an independent mockumentary that was only shown at a film festival.
More recently, Megan has had a role as the recurring character Erica on the Canadian television series Hard Rock Medical.
Trivia
Megan Fahlenbock was born on June 30, 1971.
Megan holds a Bachelor's Degree in Anthropology from McGill University.
Before becoming an actor, she was a waterskier.

In that profession, she met with some success, as she performed around the world.

Megan has a brother named Charlie and a sister named Annie.
Community content is available under
CC-BY-SA
unless otherwise noted.