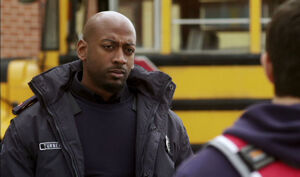 Jess Gibbons is the man who voices
Wyatt
on the TV series
6teen
. He is mainly known as a voice actor, even though Wyatt was his only role as such an actor. Jess Gibbons has actually had many more roles in live-action movies and films.
One of Jess Gibbons live-action roles was in the 2002 movie Paid In Full. There, he played one of the members of the main character's gang. His role was very small, and he never spoke. Jess was credited as "Jesse Gibbons" in the end credits of this movie.
Another role he had was in 16 Blocks. Here he was one of the friends of the main character, NYPD detective Jack Mosley. He made very few appearances onscreen, as the movie was more focused on a corrupt workplace than on Mosley's personal life. (This was also due to him not being part of the police department Mosley worked at, which was the main setting of the movie and focus of the movie's action.)
Other roles he has had were in TV. The series he has appeared in include Degrassi: The Next Generation, Soul Food, Missing, and the crime drama Kevin Hill. He had bit parts in all of these. In Degrassi, he played a police officer, Officer Turner. He also acted as a police officer in Missing, making a short cameo. In Soul Food, he was credited as "Delivery Guy," and in Kevin Hill he was credited as "Baseball Cap Guy;" these titles point to him as an extra, rather than a main or supporting character. In 2012, he appeared in the made-for-TV movie The Christmas Heart as a miller. He has not made any more notable acting appearances since his role on Degrassi: The Next Generation ended in 2013.
In 2008, he was nominated for a Gemini award along with the cast of 6teen.
Gallery
Community content is available under
CC-BY-SA
unless otherwise noted.