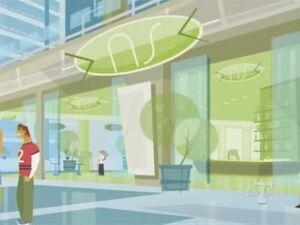 The
Galleria Mall Spa
is a store in the
Galleria Mall
. It is, as the name suggests, the mall's spa. It is unknown whether it has a name other than the Galleria Mall spa, as it has never been referred to as anything other than "the spa." The spa is mainly staffed by the
Salon/Spa Ladies
and a beauty consultant.
The largest appearance that the spa made was in "Girlie Boys." There, Jonesy went to the spa in order to get his unibrow shaved, and while there discovered that the clientele was almost exclusively attractive females. This convinced him to start working at the spa.
While working there, he found out that there were enjoyable spa treatments that both made him more attractive and were enjoyable to experience. While they were expensive, they allowed him to spend more time around the attractive clientele; in addition, as an employee, he was given an employee discount for the spa. He then introduced the spa to Jude and Wyatt, who also enjoyed the treatments and the female ambiance. Jude was the one who most liked the spa, as he was training for a speed skating competition and started getting waxes in order to reduce drag caused by his body hair.
Despite Jonesy's employee discount, the spa was still very expensive, so the guys decided to sneak in at night and give themselves spa treatments for free. This naturally backfired on them: Jude turned himself green while attempting to do a seaweed wrap, and they ended up getting caught by Ron. Ron informed the store of the break-in, and Jonesy was subsequently fired.
The spa also appears in "Cecil B. Delusioned," where Caitlin takes Nikki to the spa for Jonesy's prank TV show. It also appears in "Dirty Work," when Caitlin goes there for her acne, and in "Blast From The Past" when Caitlin goes there to get cleaned up after undertaking a career as an artist. Jude also goes to the spa in "Lights Out" to get his hair dyed, and in "The List" in order to increase the size of his zit.
Trivia
In "Major Unfaithfulness," it was revealed that Caitlin's usual hair stylist, Andre, works here.
Caitlin seems to be a frequent customer of the spa, as she's often the first one to recommend it.
Community content is available under
CC-BY-SA
unless otherwise noted.