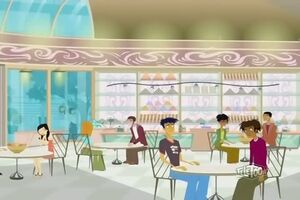 Cafe Coeur Brisé
(directly translated, "Broken Heart Café") is a restaurant in the mall that has some bad mojo around it. Due to the name and the atmosphere, it's considered to be
the
breakup spot in the
Galleria Mall
–in fact, it's so well-equipped for breakups that the menu actually includes tissues.
It was first seen in "Date and Switch," where it is revealed that the restaurant is relatively new. In that episode, Jonesy volunteers to break the news to Wyatt that Marlowe wants to break up with him, and does so by taking him to this restaurant. Naturally, Wyatt doesn't take the news well, but the other broken-up couples in the café (with most of the broken-hearted being girls whom their boyfriends had just dumped) incorrectly assume that they are a gay couple that is breaking up and pelt Jonesy with bread for "dumping" Wyatt.
Its second appearance is in "Great Expectations". There, it is the place Wyatt takes Caitlin for dinner on their first date. Due to the atmosphere of broken hearts and tears, the dinner was awkward and strained. The duo paid quickly and then left, as the restaurant's atmosphere was making their date more awkward than it already was; Wyatt admitted when Caitlin asked that his choice of restaurant was self-sabotaging and that he regretted it.
The third and final appearance of the store is in "Quit It," where Wyatt breaks up with Lacey. The reason he broke up with her was because she was copying him to such an extent that she was wearing the same clothes, playing and writing similar songs, and even working at Burger McFlipster's. He took her to Cafe Coueur Brisé because Jonesy reasoned that Wyatt should dump her the way he would want to be dumped, which suggests that Wyatt's preferred method of being dumped would be to be dumped face-to-face in a restaurant. After this episode, Cafe Coeur Brisé was never seen again.
Community content is available under
CC-BY-SA
unless otherwise noted.