<hero title="6teen Wiki" description="The unofficial encyclopedia made by fans, for fans, for everything 6teen."></hero>
Welcome to the 6teen Wiki!
This wiki concentrates on 6teen, a Canadian animated television series that ran for six years on Teletoon. It focused on the misadventures of six teenagers hanging out and working in the Galleria Mall as they blundered their way through first jobs, crushes, dates, and the occasional amount of school as they avoided the teenager-hating rent-a-cop and dealt with other pitfalls of life in the mall.
News
Spread the word on the 6teen Wiki! We could use some more help by users! Thank you! We'll truly appreciate it.
Before editing, please read the rules. Thank you!
To find out what we're working on and how you can help, read this blog and find out how you can pitch in.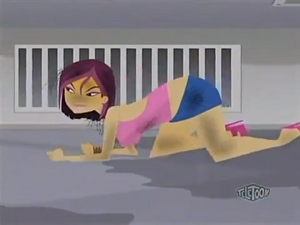 The List
is the 87th episode of 6teen and the seventh episode of the fourth and final season. It aired on Teletoon on November 12, 2009 and on Cartoon Network on May 17, 2010.
In this episode, Wyatt laments his inability to get a date, which leads to Jonesy giving him a copy of his list of all the girls he's ever hooked up with. This prized list, while seen as an amazing achievement by Wyatt and Jude, is not viewed so favorably by his girlfriend Nikki, who sees the list as misogynistic and is offended by the fact that he's been carrying it with him the entire time they've been dating.
This leads to a rift developing in their relationship, and when Wayne finds out that the list may actually be in the open, he tries his best to get it. Thus begins a rush for the list, with Wayne and several dateless guys trying to get the list for their own uses, Nikki trying to destroy it, and Jonesy trying to protect it until he can give it to Wyatt.
Meanwhile, Caitlin discovers that her credit card has been stolen, so she and Jen set out to find the thief and bring him to justice, and Jude discovers he has a lucky zit and takes advantage of it.
Community content is available under
CC-BY-SA
unless otherwise noted.