<hero title="6teen Wiki" description="The unofficial encyclopedia made by fans, for fans, for everything 6teen."></hero>
Welcome to the 6teen Wiki!
This wiki concentrates on 6teen, a Canadian animated television series that ran for six years on Teletoon. It focused on the misadventures of six teenagers hanging out and working in the Galleria Mall as they blundered their way through first jobs, crushes, dates, and the occasional amount of school as they avoided the teenager-hating rent-a-cop and dealt with other pitfalls of life in the mall.
News
Spread the word on the 6teen Wiki! We could use some more help by users! Thank you! We'll truly appreciate it.
Before editing, please read the rules. Thank you!
To find out what we're working on and how you can help, read this blog and find out how you can pitch in.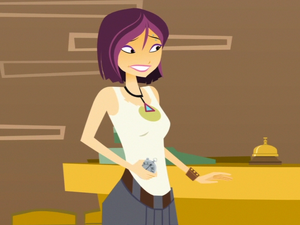 On Your Mark, Get Set... Date
is the 90th episode of the series and the 10th episode of the final season, which aired on February 11, 2010, in Canada on Teletoon and on June 7, 2010, in the United States on Cartoon Network.
In an attempt to see who's method works better, Jonesy and Caitlin use a speed dating event at the mall to settle which dating strategy is better: being dominant or being kind.
Did you know?
---
---