<hero title="6teen Wiki" description="The unofficial encyclopedia made by fans, for fans, for everything 6teen."></hero>
Welcome to the 6teen Wiki!
This wiki concentrates on 6teen, a Canadian animated television series that ran for six years on Teletoon. It focused on the misadventures of six teenagers hanging out and working in the Galleria Mall as they blundered their way through first jobs, crushes, dates, and the occasional amount of school as they avoided the teenager-hating rent-a-cop and dealt with other pitfalls of life in the mall.
News
Spread the word on the 6teen Wiki! We could use some more help by users! Thank you! We'll truly appreciate it.
Before editing, please read the rules. Thank you!
To find out what we're working on and how you can help, read this blog and find out how you can pitch in.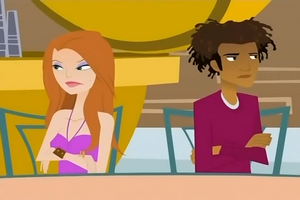 Date and Switch
is the 79th episode of 6teen and the 25th episode of the third season. It aired on Teletoon on April 20, 2008 and on Cartoon Network on December, 2008.
In this episode, Wyatt and Marlowe's relationship is going downhill as they are getting on each other's nerves. Wyatt later heads down to Grind Me to get some advice on his relationship. Marlowe overhears this, and Wyatt finds every place possible to hide from her.
The gang tries to help Wyatt find ways to break up with Marlowe, but they all fail.
Meanwhile, Caitlin rambles about her new boyfriend Callum, and the gang is not interested in him. However, Callum turns out to be a klutz and Caitlin did not expect him for the boyfriend she's looking for. Callum goes about the mall with Caitlin's Khaki Barn card, and this sends her on a run.
---
---